Calgary Home Rental Market and Real Estate Trend
CitysearchCalgary - Sunday, December 4, 2016
Alberta's largest, most populous city and one of the finest lifestyle providers in the province – yes, you guessed it right, we are talking about none other than the city of Calgary. The city has witnessed tremendous growth in the recent years. It won't be going way too far if we say that Calgary is one of the best cities in Canada to abode due to:
A low violent crime rate compared to most major cities in Canada
Reasonable salaries
A lifestyle that is envied by many
The Twist in the Story
In Calgary, the luxury real estate market turned down in the first half of the year due to the decline in oil prices and the ebb in consumer confidence; this, in turn, has an effect on employment and migration.
It's Renters Time!
New apartments' construction has left 40 percent of private rental units in Calgary unoccupied. The vacancy rate in Calgary has climbed the highest mountain ever. An analyst with housing agency, Richard Cho stated, "The vacancy rate has moved well above historical averages largely due to a rise in supply."
Although landlords are facing a hard time, for renters there has never been a better time to rent a property in the city. Based on the data, presently, there are 8,102 rental units listed for rent in Calgary, and only 63 percent of those units have a renter living in them.
According to the Canada Mortgage and Housing Corporation (CMHC), Calgary's apartment vacancy rate has elevated to its highest level in a quarter-century, impacted by high unemployment caused by the slumping oil prices.
This October, the vacancy rate struck 7 percent – up from 5.3 percent in October 2015.
Prices Pushed Down
In the city, higher apartment vacancies have propelled prices down while giving renters many choices.
According to a Calgary online database of rental housing, prices have declined by 25 percent to 35 percent, depending on the type of housing, from a peak in July 2014.
In October 2016, a two-bedroom apartment was renting, on average, for $1,258, compared to $1,332 same month previous year, according to the national housing agency.
Surely, there are lesser renters in the Calgary rental market as compared to yesteryears, yet there is another reason for the spiked vacancy rate, which is – many tenants have postponed buying homes, for they are contacting landlords and navigating through the best deals before settling in. Apart from low rent prices, more landlords are providing incentives – such as renovations, reduced damage deposits, or gifts – to fill their units.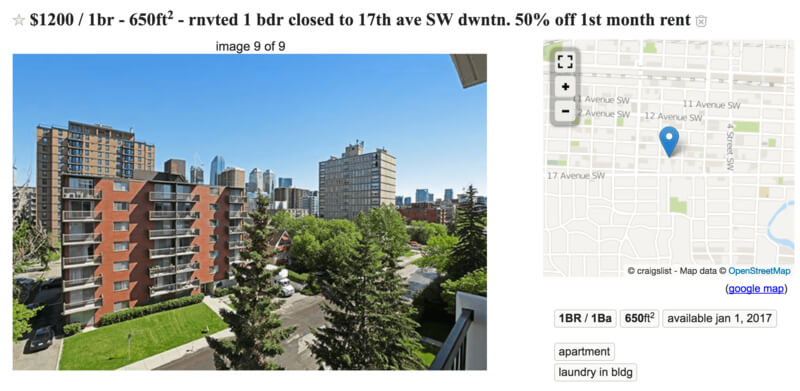 The Canadian Mortgage and Housing Corporation said that although the demand for apartments from international migrants is high, a plethora of inventory is keeping options open and wide for other renters.
Renting Condos
Real estate stockholders have been leasing more of their condos in a flagging market, giving renters more choices. Rental condos tend to be newer with superior finishes and additional amenities like fitness centers and underground parking.
Citysearch Rental Network Inc. is your rental search destination in Calgary. Citysearch is a full-service property management and corporate relocation company, specializing in quality residential properties in the City of Calgary and surrounding communities. We professionally manage and lease furnished and unfurnished property rentals, and has established a solid reputation in the premium executive marketplace.
Whether you are looking for an apartment or a condominium, our rental network has got your home rental needs covered in Calgary. Make the most of this time, and rent the right home in the city of Calgary with the help of Citysearch. Connect with us.