CitySearchCalgary - Sunday, June 2, 2019
Create a spa-like feel when staging your bathroom which is especially important when readying your property for lease. You can take a few simple and easy steps to make your bathroom more appealing without breaking the bank.
Most people like new or renovated bathrooms, a nice soaker tub, great storage and good lighting. The spa-like feeling, even in a small space can be created with a few considerations and its mostly about light, color, texture and accessories once any clutter, cleaning and repairs have been made. Here are a few tips that we feel help make a property lease faster and for more.
Walls – typically light-colored walls make a space appear larger. A semi-gloss paint color reflects light and can brighten the space. Trim and door in a light or white color will make things feel fresh and polished.
Furniture – if space permits, add a cabinet or chair in the room. This can add function and elegance.
Accessories – we suggest some deities, candles and other accents to make the space inviting and fun. Sponges, bath salts and a collection of hair and bathing amenities can provide a sense of being in a spa. Artwork and mirrors can add interest if carefully selected and placed. Large artwork above a toilet or towel bar can be a pleasing display.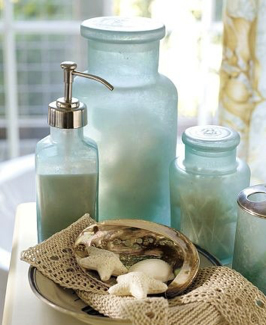 Lighting – we love crystals and chandeliers to add bling and functionality… instant elegance which can also create a focal point making your bathroom stand out.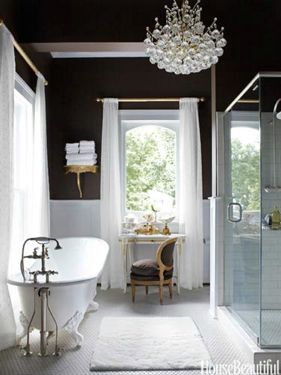 Towels – nicely folded clean towels are critical for showcasing your bathroom. Finessing the placement aligning neatly in rows or rolled towels in shelving units are great suggestions.
Storage Space – we like lots of storage to hide the daily personal items we all use. Pedestal sinks are often not practical for storage space and vanity options can provide lots.
In summary, think organized and minimalistic when it comes to how you wish to showcase your property for top dollar. Most importantly, the space must be clean and sparkle. Keep counters and surfaces clean and clear, check caulking and grout for any repairs, hide trash cans, personal items and plungers and update electrical switches and plates. Small changes can have big results.