Discover Calgary (Summer Edition)
CitysearchCalgary - Wednesday, August 18, 2021
Calgary is a beautiful city situated on the periphery of the Rockies at the confluence of the Bow River and Elbow River. Known for the surrounding beauty of 4 UNESCO World Heritage Sites, Cowboy Culture and Sporting History (ever heard of the Jamaican Bobsled Team and Eddie the Eagle?!)
If you are a big tv/movie buff like me, you may also recognize areas of Calgary and surrounding areas from shows such as Fargo and Game of Thrones and movies including Interstellar, Ghostbusters: Afterlife, Brokeback Mountain and The Revenant (there are so much more too!)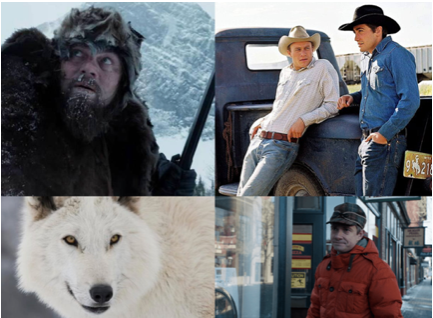 So, we have identified that Calgary is a hub for film & television - but what else is there to see in this great city?
Cowtown Culture
Calgary is a city founded off the back of a rich agriculture and ranching history that is still celebrated to this day!
Walking around Calgary you would could be forgiven in believing that you has been transported to somewhere in the Lone Star State, it is quite normal to see a multitude of the population rocking a cowboy hat and a beautiful pair of boots.
Country music is the popular genre blared in the clubs and bars until the early hours, and of course we cannot talk about Cowboy Culture, without mentioning the Stampede!
The Calgary Stampede is an annual festival hosted in the city every July, a tradition that has been prevalent in the city since 1886! As a resident of Calgary, during the 10 days that the festival runs, there is an exuberant buzz around the city that captivates audiences of tourists on a global level.
This brilliant festival gives audiences a true taste of the western lifestyle of Bountiful BBQ, Cowboy Couture, Equestrian Entertainment, and Ranching Rhetoric
Here are a handful of activities to get your fill of Cowtown Culture
Ranchman's Cookhouse & Dancehall (reopening soon)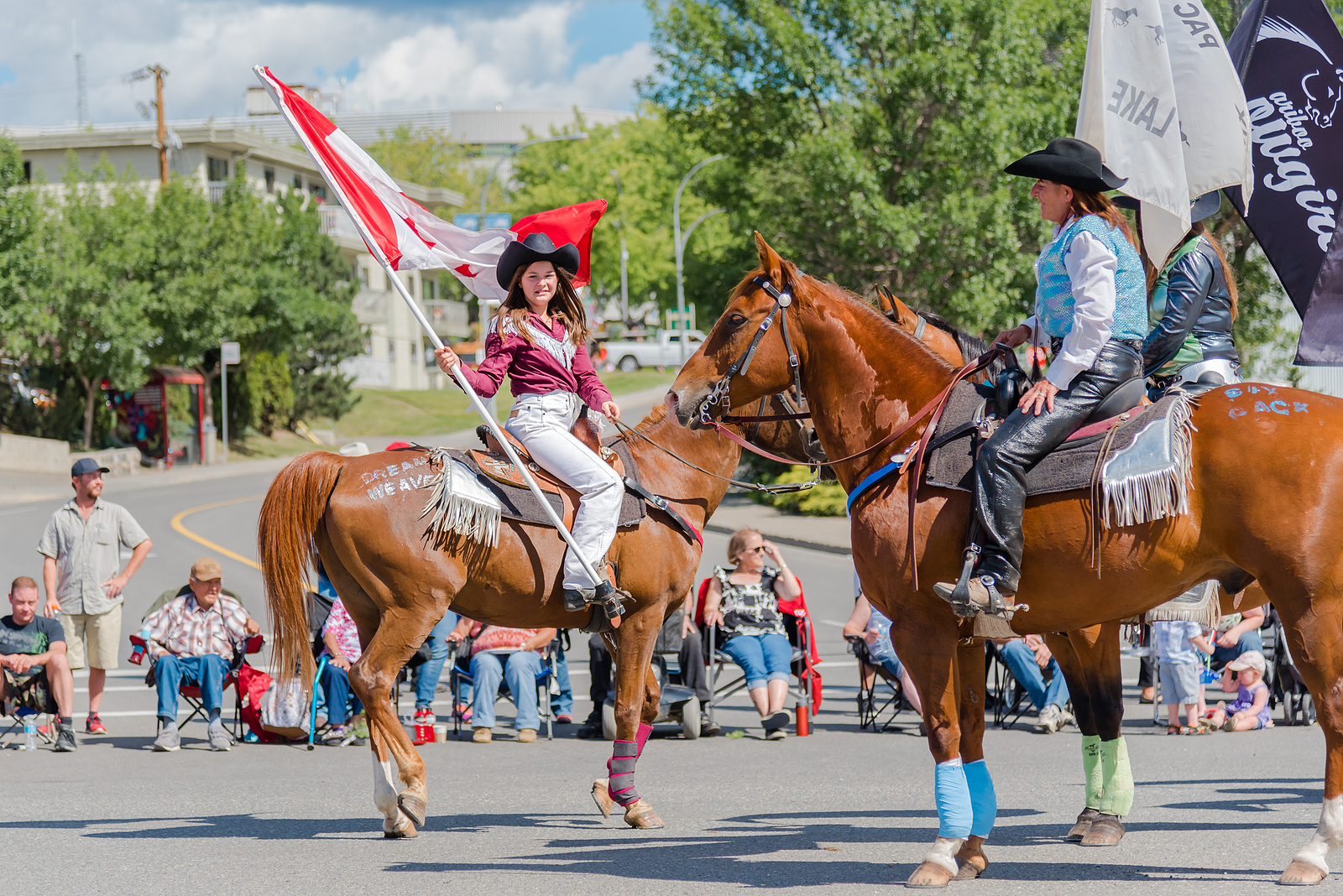 Get Your Hike On!
Dependant on where you are situated in Calgary, you may have access to sublime panoramic views of the rocky mountains, and they are a sight to behold!
Calgary is only about 1 hours drive from the gateway to the Rockies, from there you are able to scramble your way through some of the best hikes found in the world.
There are options for all levels of experience, whether you are looking for a Leisurely Lakeside Stroll with the Family or a Back Country Bear Grylls Expedition, We have it all!
With such variety of options, there are a couple of fundamental tips to prepare yourself for your maiden voyage to the mountains:
Don't Hike Alone - no matter how easy or difficult your hike may seem, we are always better together! There are a lot of hazardous things to be found in the mountains, and not always a lot of phone signal… Groups of people and plenty of noise is highly recommended to avoid any close contact with some of the larger wildlife species out there (a bear hug sounds a lot cuter than it actually is!)
Bring Bear Spray - adding to the last point, Bear Spray is a must when venturing into Bear territory. (Side note, if you see a Moose, don't look directly at it, or get too close, they are skittish creatures and will attack if feeling threatened, oh, and they can weigh up to 1500 pounds so you really don't want that charging at you!)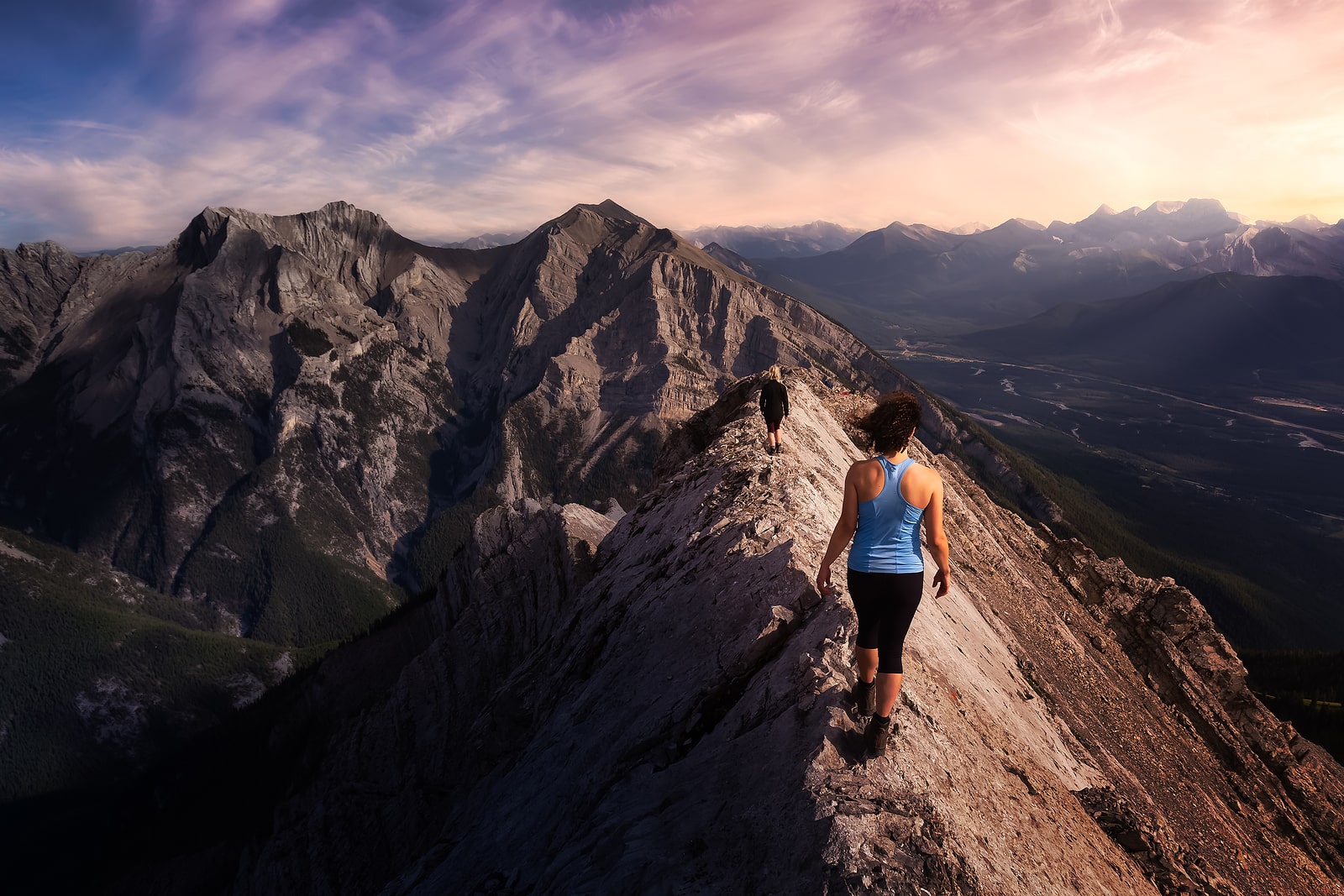 Here are a couple of hikes to start you off:
Johnston Canyon & The Ink Pots
I Canoe Believe How Fun Alberta Is?
Sorry for the pun (couldn't stop myself) but if hiking isn't your jam, maybe water-sports are more up your alley?
With Calgary at the confluence of two major rivers, you don't even have to leave the city to get your paddle on!
With a diverse selection of water-sports available, there truly is something for everyone:
The Elbow River is flows east to west, with shallow and slower moving water - ideal for a lazy river experience with the family! The Bow is another option in Calgary however this is deeper and faster moving.
Chestermere is a lake community on the periphery of Calgary with a gorgeous lake suited perfectly to motorized sports such as water skiing, wake boarding and tubing! There is a fee incurred with using motorized vehicles however non motorized options are free!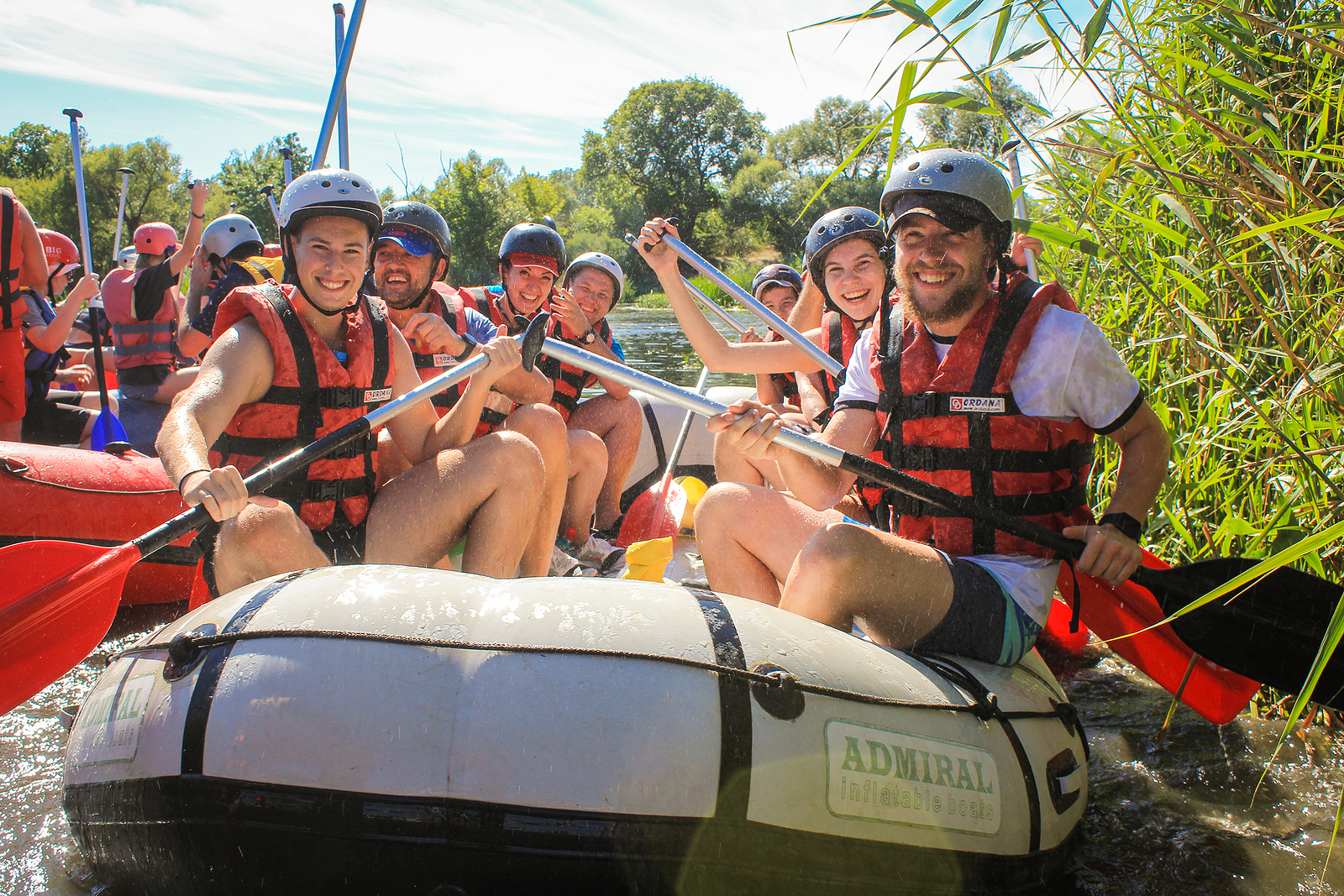 White Water Kayaking at Harvie's Passage
Looking for an adrenaline rush? The Calgary area has some great options when it comes to White Water! Harvie's Passage is situated on the Bow River in the Centre of Calgary. There are two passages available suited to different experience levels with a Class 2 rapids and Class 4 Rapids. Venturing out of the city and towards the mountains there are even more options including Kananaskis River Rapids.
Wine, Dine, and Have a Good Time
Calgary has an array of dining options to meet everyones mood! Whether it is fine dining, quirky cookeries or fast food… We have it all!
Here are a couple of options to please your pallet:
Situated in the fantastic Fish Creek Park, Bow Valley Ranche is a little piece of Calgary Heritage that you cannot afford to overlook. This beautiful location not only offers magnificent and locally sourced menu items, but once you have had your fill, you can take a gentle jaunt through the Ranches grounds and discover some interesting facts about the history of the property, or you can stretch your legs with a pleasant walk through Fish Creek! Take a Bow!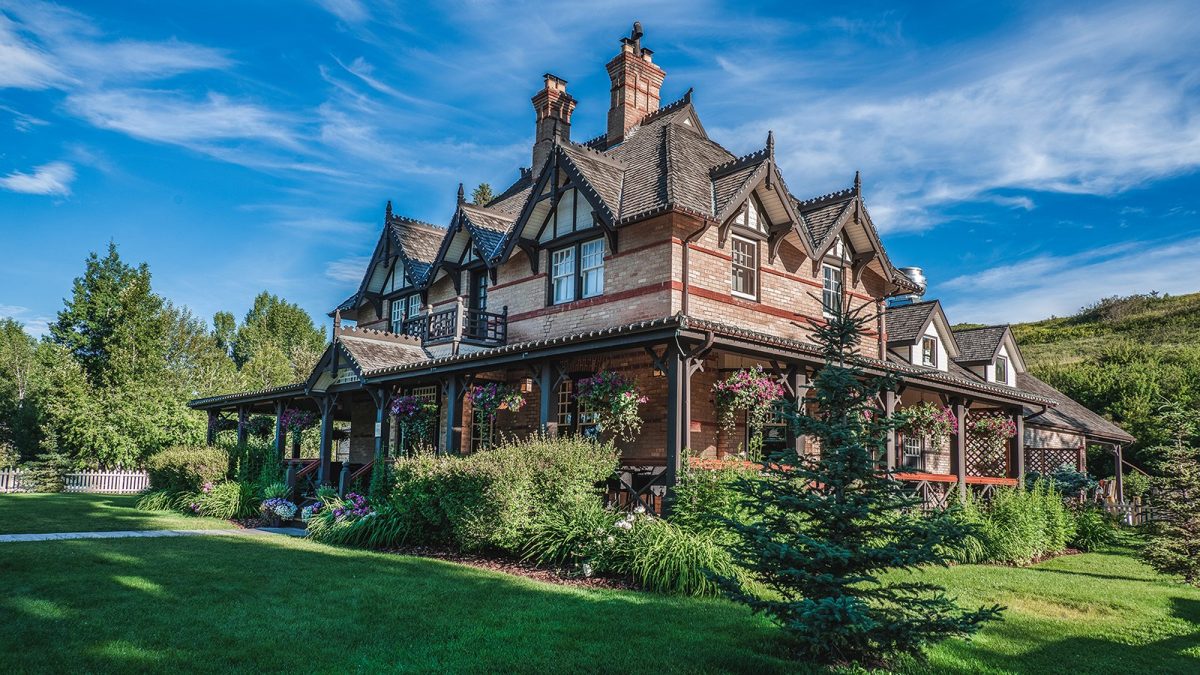 Source: https://bvrrestaurant.com/product/gift-card/
Another restaurant based out of a beautiful heritage home, Rouge is based in on of Calgary's more bohemian communities, Inglewood. With a French-inspired menu, Rouge are known for sourcing ingredients from their extensive back garden… talk about fresh! And of course, you can't have French cuisine without an extensive offering of Wine options! Bon Appetit!
If you are looking for a head-spinning view of Calgary, Sky 360 is your go to! Situated in the Calgary tower, this dining experience gives you panoramic views of the city as you are gently rotated 360 degrees over the course of your dining experience (over about 45 minutes). Once finished with your delightful dining experience, hop in the elevator to the very top of the tower to take in some more views of the city (feeling brave? There is a glass bottom section of the tower for a dizzying reminder of how high up you actually are!!)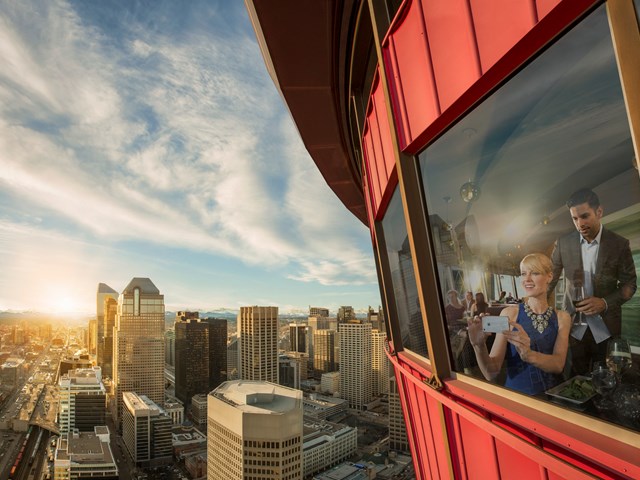 Source: https://www.travelalberta.com/ca/articles/the-calgary-tower-life-at-the-top-830/
Poutine and a burger sounds pretty standard eh? But what about Poutine INSIDE a burger? Have I peaked your interest? This award winning burger joint has been rated as one of the best burgers in North America, and they have yet to fail me in living up to the hype! Situated a few minutes from the Stampede grounds, this little eatery offers a huge selection of customizable stuffed burgers, crazy poutines and seriously cheesy grilled cheeses. The perfect place to visit for a casual comfort meal with your buddies!