CREB Market Update & Other Real Estate Informatio...
CitysearchCalgary - Thursday, July 13, 2017
<![CDATA[
CREB Market Update and June Stats Package
June spells a gradual recovery
Stable prices in detached sector signal balanced conditions despite increased inventory
Calgary's housing market in June saw a modest improvement in sales along with an increase in new listings.
However, demand gains have not kept pace with the amount of new listings coming onto the market. This caused inventory levels to increase to 6,659 units, which is 11 per cent higher than last year's levels.
Despite the recent shift in inventory this month, second quarter activity continues to demonstrate improved supply-demand balance and price stability. City wide benchmark prices totaled $441,500 in June. This is a 0.5 per cent gain over last month and nearly one per cent higher than last year.
"The supply gain this month will be monitored. However, on a quarterly basis, inventory levels remain comparable to last year, sales have improved and there have been modest price gains. All of this remains consistent with expectations of a gradual recovery," said CREB® chief economist Ann-Marie Lurie.
Year-to-date residential sales in Calgary totaled 10,322 units, which is 12 per cent above last year's levels. New listings increased by three per cent over the same time period.
Overall, both the sales-to-new listings ratio and months of supply have trended down this year. This signals more stable pricing in the housing market this year.
Read more and find the full statistics page here!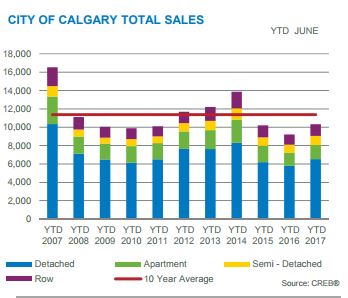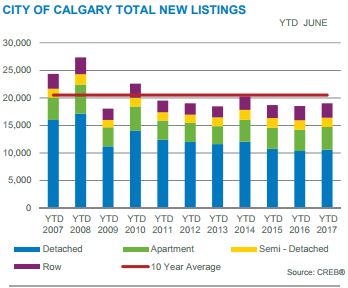 Bank of Canada raises prime rate
We were somewhat surprised by the Bank of Canada interest rate increase announced yesterday. We thought that the BOC was providing an early warning for a September rate hike, obviously that was not the case.
Mr. Poltz seems to think things are going along according to plan, even with lower oil prices and the looming NAFTA renegotiation, they believe the Canadians can absorb the .25% rate increase and possibly more in the not too distant future.
With the prime now set at 2.95%, anyone with a variable rate mortgage will receive a notice in the next 2 to 3 weeks that states your mortgage payment has gone up. This is the standard practice with most banks and lenders.
Karen's Corner 
Do public open houses have a place in real estate these days?
Do public open houses have a place in real estate these days – when buyers can get so much information from photo galleries, floor plans, 3D imaging and online mapping tools?
Here are 2 reasons why you should consider open houses – and some TIPS for sellers:
The more visits a house gets, the FASTER it will sell.   It is important to expose your home to the widest possible audience, and an open house will get that done quickly and efficiently.
At Hripko Nelson & Partners – we post our Open Houses early on in the week.  So buyers that are searching online – can plan their weekends around these times/dates.  In addition we use Social Media to promote each property – to a custom audience of potential buyers – looking for a home in that exact area!  Most real estate websites allow consumers to search by open-house date, because they have found that consumers like to search that way.  Driving through chosen neighborhoods on the weekend – is one of the top buyer activities, and if the house is open, they will stop on in.
Buyers LOVE open houses. Studies show that 45 percent of buyers said they used open houses as a source for information in their home search.
Below are some tips to prepare your home for these WANTED guests:
Remove valuables like small electronics, jewelry, purses and any family heirlooms
Prescription medication should be removed from any rooms, including medicine cabinets
Any items that can identify household members shouldn't be left in the open – eg. degrees on walls
Bills, credit card receipts, bank statements, and passports should be locked away and out of view
Don't hide valuables in places easily accessible by others, like in your dresser for instance – either remove the items from the home, or lock them up in storage or safe
Last but not least….many people think Open Houses are just a way for their nosey neighbors to see the home…may be true – but let them in!  They live in the area already. Pre-qualified ADVOCATES that have many friends/family/contacts.  Imagine a neighbor coming through your home….and going back to her own home – on the same street – or in the same neighborhood…calling her best friend/dentist/cousin/dog walker – and insisting that she has to come see this PERFECT house. Neighbors can HELP sell your home!
If you're looking to buy a new home: Check out Hripko Nelson & Partners' active listings here!
Citysearch Rental Network Inc.