Calgary Vacancy Rate High, Rent Prices Expected to Dro...
CitysearchCalgary - Tuesday, August 9, 2016
Declined Home Sales Fail to Affect the Sale Prices
Last month, July 2016, the house sales totaled 1,741 units, which is a 12.6% decrease from July 2015, according to the Calgary Real Estate Board. The sales for detached homes were down by 9.2% over the past year. With only 6,908 sales this year, sales activity is 22%, which is at its lowest level since the year 1996.
So, what really helped prevent eroding of prices? The answer for this is quite simple: a 10.2% drop in listings.
As compared to the previous year, the average sale price for a home increased by 1.78% to $484,998, though the median sale price decreased by 1.38% to $429,000.
Calgary's residential standard price was $440,000, plunged only $400 from June, but 4.2% below July figures from 2015.
Calgary's Real Estate Prices Uninfluenced by High Unemployment Rate
From 2014 to the present date, the price of oil has been cut in half; Calgary's unemployment rate has almost doubled.
However, the initial impact of Alberta's economic downturn has been dampened because many Canadians who were terminated from their jobs have left Alberta. Mostly, these people were not Alberta homeowners. So, the truth is that the itinerant workers don't really participate in the actual real estate market, which is why Calgary's real estate price remains unaltered.
Rental Market Affected Due to Spiked Vacancy Rate
Since the departure of so many people has had an impact on vacancy rates, it is Calgary home rental market which is expected to be impacted the most.
According to Civic Census 2016, the numbers of vacant homes in the city have multiplied. In April 2016, unoccupied homes total 21,000, up 8300 from the previous year.
So, the vacancy rate has been pushed to 4.3%, which is a level that was not seen even in the past 10 years.
Since many of the people moving away from the city are leaving rental units, rather than homes they owned, the people who are still working and searching for work in Alberta have the benefits of affordable and available Calgary house rental.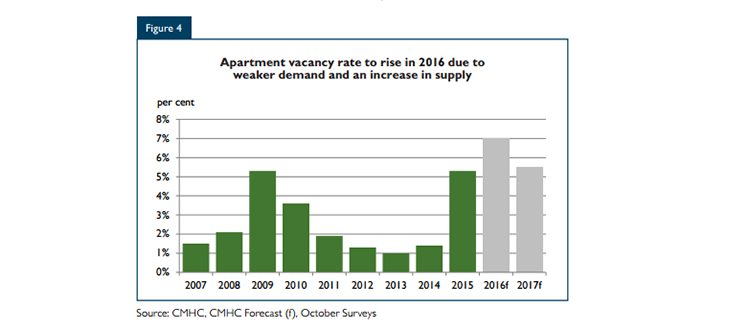 Prices Expected to Decline in Calgary Real Estate Market
Although, we have not witnessed a price drop in Calgary's real estate until now, Don Campbell, a senior analyst with the Real Estate Investment Network believes that the scenario is going to change soon.
Campbell said that the negative momentum would be increasing over the next six months or a year, as confidence starts to vanish that this was not one of those typical two-year blips.
And then, a more dramatic price drop is expected to be seen in the housing market in Alberta.
According to Hilliard MacBeth, Edmonton-based securities analyst, as the availability and affordability of rental housing grows, changes will start showing up in a big way in the real estate market in Alberta.
Cliff Stevenson, CREB® president said that while buyers are expecting more declines in real estate prices, sellers are adjusting to a softer demand with price decreases. When these expectations intersect, sales activity in the market is likely to increase.
Discover Your Perfect Calgary House Rental
Your search for perfect Calgary home just got easier with Citysearch. Are you looking for a Calgary house, apartment or condo for rent? Contact us today to talk about your real estate needs and explore how our well-established, proven corporate networks can benefit you today. With powerful search tools, quick results and a wide selection of residential property rentals, we are one of the leading online destinations for new or relocating Calgary residents.